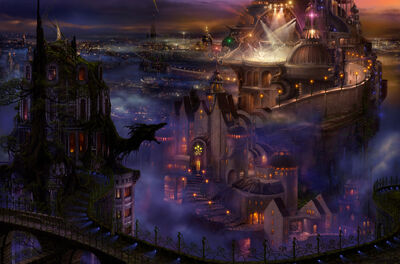 Howldon Industry Compendium
Edit
Industry in Howldon is divided, as it generally is everywhere, into the principle subcategories of Extractive, Manufacturing, Advancement and Services Industry. The individualistic nature of Howldon citizens and the cities identity as a Republic state influenced by democracy means that the major companies and businesses are all entirely privately owned. Additionally, all businesses are loosely and honestly tethered to political groups with very little corporate corruption benefitting politicians. That said, industry in Howldon is a cut-throat world of strong competition, filled with corporate heavyweights who have mastered the art of business and economy. Opening a business in Howldon is high risk, high reward.
The first of the aforementioned types of Industry, Extractive, is not prominent in Howldon at all. This involves the manual labour, working the land. Aside from a few offices representing powerful mining companies, this type of work is all but nonexistent in the city. There are many groups in Extractive work that are second or third party businesses to larger groups in the city, however.
Manufacturing Industry is perhaps most common in Howldon and likely to be the city's greatest source of revenue. The majority of working citizens are middle-class, and employed in factories and fabrication units.
The Advancement Industry is also relatively prominent in Howldon. Howldon University has very high entry level standards and thus only produces the most gifted thinkers. These graduates tend to be in the fields of Engineering and Technical Science, which helps fuel the manufacturing industry of Howldon.
Finally, the Services Industry is one that requires specific skills to succeed in, but is booming in Howldon. As a large, thriving city hub it receives a great deal of industry from tourist services and nightlife facilities. The city is rather viciously competitive and so there are few small, family-owned businesses around.
Extractive Businesses
Edit
Manufacturing Businesses
Edit
Advancement Businesses
Edit
Services Businesses
Edit
Ad blocker interference detected!
Wikia is a free-to-use site that makes money from advertising. We have a modified experience for viewers using ad blockers

Wikia is not accessible if you've made further modifications. Remove the custom ad blocker rule(s) and the page will load as expected.